Description
NOTE: During plating a test strip is exposed to a uniform current density along the legs of the strip.  The plating test should be continued until the test strip legs deflect up to 20 units and with a target thickness that does not exceed approximately 100 microinches for the most accurate results.  Very low stress may show only 1-2 units.
These Test Strips are not for moderate to high alkaline plating baths.
Stress Characteristics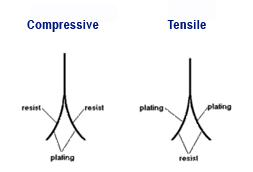 The deposit stress is compressive if the resist is on the outside of the Test Strip legs.
The deposit stress is tensile if the plating is on the outside of the Test Strip legs.
| | | | | |
| --- | --- | --- | --- | --- |
| Test Strip | Tensile Stress | Compressive Stress | Range, PSI | Composition |
| 1194-PKP | Yes | Yes | 1,500 – 145,000 | Copper-Iron Alloy |
| 270NI-PKP | Yes | Yes | 200 – 60,000 | Pure Nickel |
Plating Procedure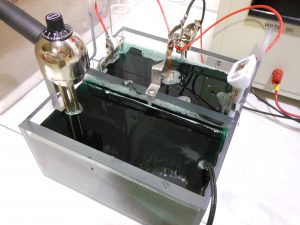 Best results are obtained with a test set up similar to the above photograph. Anodes should be located at least three inches away from the Test Strip and should be positioned in a parallel plane with the Test Strip. Electrical contact should be made at the top of the Test Strip where there is a void in the masking material. The Test Strip legs should be fully submersed with out touching the bottom of the plating cell.
The plating current density should be adjusted with a given electrolyte so as not to cause deposit burning at the Test Strip's tips, yet sufficient enough to conduct a rapid test. Preferably, the current density should be maintained at the approximate value at which the bath is normally worked.
Two Anodes are required, similar in composition, shape and size. Anodes 2x2x1/8″ can be purchased from Kocour Company.
Note: For Electroless Nickel activation is not required for Chemically induced metallic deposition.
Test Strip and Anode Considerations
| | | |
| --- | --- | --- |
| Metallic Deposit | Test Strip | Anodes* |
| Cadium | 1194, 270NI | Cadium |
| Chromium | 270NI | Lead |
| Cobalt | 1194, 270NI | Cobalt |
| Copper | 1194, 270NI | Copper |
| Gold | 270NI | Platinum Coated Titanium |
| Nickel | 1194, 270NI | Nickel |
| Palladium | 1194 | Platinum Coated Titanium |
| Platinum | 270NI | Platinum |
| Rhodium | 270NI | Platinum Coated Titanium |
| >Silver | 1194, 270NI | Silver |
| Tin | 1194, 270NI | Tin |
| Zinc | 1194, 270NI | Zinc |