Description
Immersion Heater (PN:  3046) is for use in Plating Cells PN:  800L and PN:  800PVC.
The heated area is a horizontal 3 1/8 inch diameter loop located at the bottom of the heater.
The heater attaches to the plastic bar at the end of the Plating Cell to keep the heated loop away form the cell sides and bottom.
The heater Dial Temperature Controller has a sensitivity of ± 1 °F when the solution is agitated.
Top-mounted pilot light indicates that heater is ON.
Heater features a plastic grip handle and a 6-foot, three-wire cord, with U.S. standard plug.
See below how the Immersible Heater fits into the PN:  800L Plating Cell.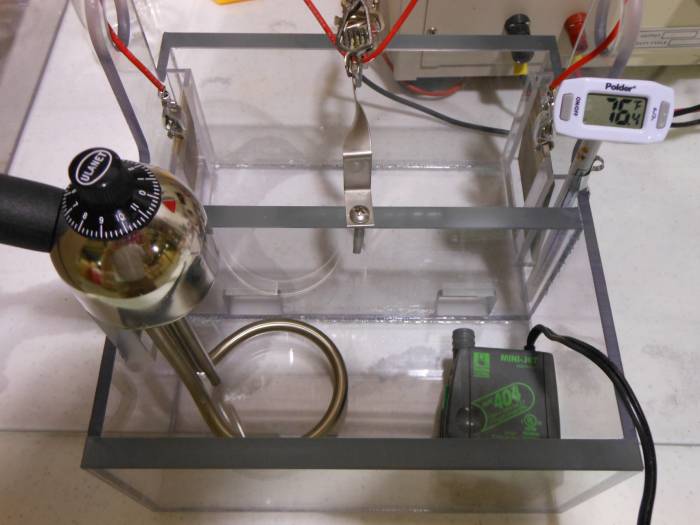 | Temp range | Ambient to 212°F or (100°C) |
| --- | --- |
| Heated area | 3-1/8" dia |
| Material | Stainless Steel |
| Immersion depth | 3 inches |
| Heater style | Loop |
| Watts | 500 |
| Power (VAC) | 115 |
| Dial Setting | °C | °F |
| --- | --- | --- |
| 3 | 25 | 77 |
| 3.6 | 35 | 95 |
| 4.2 | 50 | 122 |
| 5.2 | 60 | 140 |
| 6 | 91 | 195 |
| °C | °F | Minutes |
| --- | --- | --- |
| 25 | 77 | 3 |
| 30 | 86 | 6 |
| 35 | 95 | 9 |
| 40 | 104 | 12 |
| 45 | 113 | 15 |
| 50 | 122 | 18.5 |
| 55 | 131 | 22 |
| 60 | 140 | 26 |
| 65 | 149 | 30 |
| 70 | 158 | 25 |
| 75 | 167 | 41 |
| 30 | 176 | 47 |